Bendheim EcoGlass™
Environmentally friendly cabinet glass inserts smarten kitchens and bathrooms while protecting the health and beauty of our environment
EcoGlass makes a vital contribution to the environment through its high post-consumer recycled content and energy efficient upgrades to the processes employed during its production. The EcoGlass journey starts at homeowners' recycling bins. Discarded glass jars and bottles are redirected from the municipal waste stream, contributing up to 40% of the composition of the new decorative EcoGlasses. The glass manufacturer's internal recycling process further reuses production breakage for an additional 20% pre-consumer recycled content. At the plant, a unique glass furnace fires on a clean, efficient oxygen/fuel mix to form the brilliant glass sheets, while chemical algaecides are rendered obsolete by silver carp munching on the algae in the plant's cooling ponds.
Smart cabinet remodels using EcoGlass or any other Bendheim product are cost effective and minimize stress on the environment, as all our glasses are sourced from trusted, environmentally-conscious European and North American manufactures. Kitchens and bathrooms are among the most used spaces in the home, often requiring aesthetic and functional upgrades. Numerous renovation projects shared by Bendheim customers over the years show that a little fresh color and relatively simple cabinet resurfacing, featuring beautiful textural glasses, can modernize your home on a budget and give old cabinets an astonishing face-lift, keeping them working in your home, not in the trash.
Browse Bendheim's exclusive EcoGlass collection below, or visit our Project Gallery for inspiration to give your home an environmentally friendly face-lift with decorative glass inserts.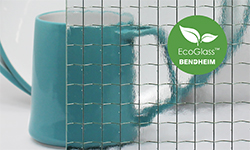 VintageWire™ True Wired EcoGlass™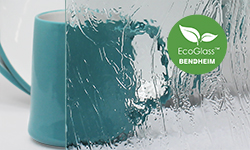 EcoGlass™ Cast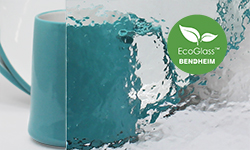 EcoGlass™ Gothic